Floods disrupt European logistics and supply chains
Severe flooding caused by violent storms have resulted in widespread disruption to logistics and manufacturing operations over the past few days in Western Europe, including in Belgium, Luxembourg, parts of the Netherlands, and western Germany.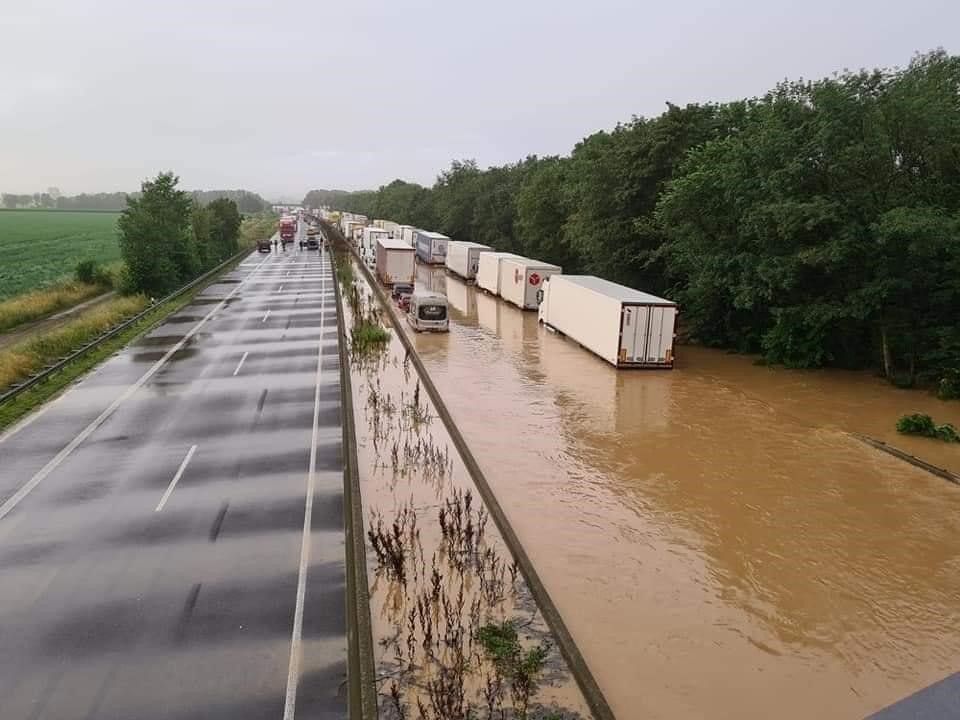 Report from Sascha Stroetges, EV Cargo Global Forwarding GmbH
Western Germany has been hit hard by rain and floodings in the last days . Fire Departments, THW and the Army are working on getting the situation under control. So far about 100 People as well as 2 Firefighters died and about 100 people also are missing after houses collapsed in the floodings in the last 3 days. Now the flooding has also reached the rivers in eastern Belgium (e.g. in Liege) and also the Maas River in the Netherlands which has reached a about 4 metre higher tide than usual at the moment.
The province of Limburg, which is our neighbouring province, behind the Border with cities such as Maastricht, Roermond and Venlo is now hit since yesterday. That should still be the case until Sunday. From the weekend we shall get better weather and no rain anymore so we hope the situation is getting better.
EV Cargo has been lucky as it looks like somehow Brennen, the eye of that rain weather and did not have any flooding or problems at our Head Office and Warehouse Place. Some major highways such as the A61 close to Bliesheim and the A44 at Jülich are damaged by flooding and closed. Also a lot of Villages in the Eifel, in the Sauerland and close to Hagen, Duesseldorf and Cologne are cut off and not reachable at the moment. Streets may be closed and transports may be delayed or not possible in these areas.
Lloyd's Loading List Article
The flooding in the German states of North Rhine-Westphalia, the country's richest state by Gross Domestic Product (GDP), and Rhineland-Palatinate, an economic powerhouse comparable to the size of Hungary, represents some of the worst in decades, after several days of steady rain generated more water than what ground and sewage systems could absorb, logistics risk specialist Everstream has highlighted.
The rapidly rising river levels caught authorities by surprise and started to impact residents and companies overnight from 14-15 July, in particular along the Meuse/Maas, Ahr, Inn, Mosel, Ruhr, and Rhine rivers or its smaller tributaries. Everstream said several industrial areas and companies located on the overflowing river banks were forced to evacuate and shut down operations due to floodwater entering their premises. It said the storms and subsequent high water also affected parts of southern Germany, Austria, and Switzerland into July 18, with some of the affected areas receiving the equivalent of a month's worth of rain in a single day.
Maersk yesterday highlighted disruptions to some intermodal services in Belgium, noting: "The recent weather conditions in Belgium have caused extreme damages in the rail tracks between Antwerp and Athus. Repair of the tracks is ongoing right now and expected to last at least three weeks." As a result, its intermodal rail connections between Antwerp and Athus have been disabled immediately for the time being, with the timeline for the repairs currently still unclear. Everstream noted:
"As cleanup efforts continue, it is apparent that the brunt of the floodwater damage impacts will come from manufacturing facilities in the most severely affected districts and cities in the Netherlands, Luxemburg, Belgium, and Germany. Some of these areas host industrial zones with dozens of high-precision manufacturing suppliers that provide specialized parts for the automotive, aerospace, technology, and mechanical engineering sectors."
One of the areas severely hit be the floods was around the Belgian city of Liege, close to the key European cargo airport. However, sources at the airport told Lloyd's Loading List that the airport quickly recovered, noting: "10 aircraft were diverted during the night of July 14-15 due to the wind direction and 2mm of standing water on the runway. They were diverted to Hanover, Brussels and Cologne by the time the water drained; then they came back to Liege Airport and landed without any problem. Since then, there has been no operational impact." - Lloyd's Loading List